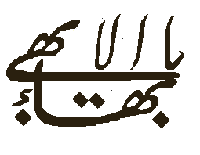 Not many people know that the lyrics of Windforce 11 are about the prophet that in 1844 announced the coming of Bahá'u'lláh in Iran. This prophet was called the Báb (which means 'The Gate' or 'The gate to divine truth'). He was also called the precursor of Bahá'u'lláh. The Báb was executed in 1850 and his grave is now on mount Carmel in Haifa, Israel.

Bahá'u'lláh is the founder of the Baha'í religion. Baha'ism is said to be the youngest of the world's independent religions. It was founded in Iran in 1863 and incorporates tenets of both Christianity and Islam. Bahaism was founded by Mirza Hoseyn 'Ali Nuri who is also known as Bahá'u'lláh. Participants in the Baha'í faith believe in the spiritual unity of all humankind. The Baha'í faith is open and tolerant when it comes to other religions and belief systems.

According to Bahaism the founders and prophets of the prominent religions of the world (Mohammad, Moses, Krishna, Buddha, Jesus Christ etc.) were all sent to earth by one God to offer spiritual guidance to humanity. In addition to these prophets Baha'ism recognizes the Báb and Bahá'u'lláh, seeing them as the most recent spiritual teachers that have walked on earth. Participants in the Baha'í faith believe that the earth will continue to see new and different prophets in the years to come who will continue to offer guidance to humanity.
Bahaism teaches that:
- All forms of prejudice should be abandoned
- Men and women should be equal
- All religions are as one
- Extreme wealth and extreme poverty should be eliminated
- Education should be compulsory and universal throughout the world
- Religion should be in harmony with science and reason
- It is the responsibility of the individual to search independently for truth
- A world federal system should be established to facilitate collective security
Windforce 11

They called him the Gate
He was a stranger, to the time that He knew
He had that swiftly way of moving you
in everything He'd do
and by the time that he revealed to me
the secrets that He had
There was a storm, windforce 11, through my head
Windforce 11!
He had a way of doing what He planned
and it makes me feel ashamed
how someone can stick to a solution
when it comes down to losing fame
And when they called him to the stand
they could make up no more than lies
'cause He had that way of looking:
straight into your eyes!
Windforce 11!
Now when I talk to me 'bout dignity
and no more need for lies
I have never seen such a manifest disguise!
When the hour struck and the curtain fell
and I was left to be
burning and half ablazed with fire
raging and consummating me
and then the silence came, before the wind freshed into a gail
There was a storm, windforce 11, through my head
Windforce 11!
Lyrics: Nadieh
Music: Nadieh/Cees Buenen
To the left you see Nadieh's own handwriting on the inlay of her debut album 'Land of Tá'.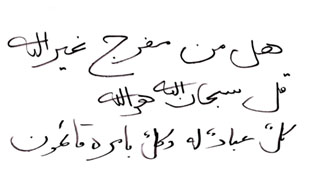 Is there any Remover of difficulties save God?
Say: Praised be God! He is God! All are his servants,
and all abide by his bidding!
-The Báb